Carry-on baggage
Your carry-on baggage are the bags you bring with you on board your aircraft and they will go through screening with you at the security checkpoint. Check with your airline for details. To learn more about what you can and cannot pack in your carry-on baggage, please visit the Know Before You Go page.
Checked baggage
Airlines set their own baggage allowance standards for size and weight. Check with your airline for checked bag limitations or baggage specific questions.
When you arrive at the airport, your checked baggage will be placed on a scale and weighed and tagged before it is placed on the baggage belt or you are directed to a designated baggage drop. If you are travelling with special items or oversized items, you may be directed to an oversize baggage drop area. Please review airline policies in advance when travelling with special items as some restrictions may apply.
Baggage carousels
Three baggage carousels are located in the baggage claim area. Carousel 1 is a dedicated domestic baggage carousel. Carousel 2 is used mainly for domestic flights but can be sectioned off with a moveable wall and accommodate transborder and international arrivals in the Customs Area. Carousel 3 is a dedicated transborder and international baggage carousel located in the Customs Area.
Ensure that you collect all of your checked baggage from the carousel before exiting the Customs Area.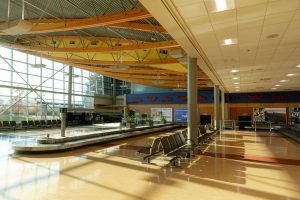 Baggage carts
Baggage carts are complimentary at YYJ and available throughout the airport and in parking lots.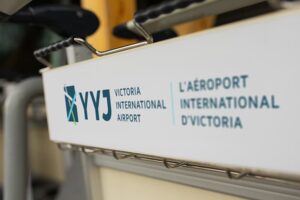 Oversize baggage
A separate baggage handling system is used to accommodate larger items.
Dropping off oversize luggage
After checking in, your airline will direct you to take your oversize luggage to the designated oversize luggage drop area located in the center of the departures check-in area.
Picking up oversize luggage
Upon arrival, your oversize luggage will be placed at the back wall beside your baggage flights baggage carousel by an airline representative.
Baggage Services
Contact airline baggage service staff if your bags do not arrive or if you need to make a damage claim.
Depending on your airline, baggage services can be located in the baggage claim area, across from the information desk in arrivals or in the Customs Area.