Assistance
We are committed to providing a friendly and easy to navigate experience for travellers using Victoria International Airport.
Getting to and from the gate
For assistance getting to and from the gate or getting on or off an aircraft, please contact your airline directly at least 72 hours in advance so that they can have the necessary arrangements in place.
Gate passes to accompany a traveller to their gate
If you are accompanying a passenger that requires assistance to the gate, you may be eligible for a gate escort pass. A gate pass allows a person to accompany a passenger through security screening to their gate. Please check with your airline (link) in advance. You will need to present government issued photo identification in advance of receiving the pass and you will be subject to the same security screening requirements as the travellers. The airlines are responsible for administering the program with support of  Victoria Airport Authority.
Travelling with children
For families travelling with children, the Canadian Air Transport Security Authority (CATSA) website Families | CATSA | ACSTA (catsa-acsta.gc.ca) has lots of good information about packing and security screening.
A play area is located on the second floor of the passenger departure lounge.
Accessibility Training
As a transportation service provider, certain employees and contracted service provider at the airport are required to complete accessibility training that is appropriate to the supporting their role at the airport. Training is a requirement of the Canadian Transportation Agency and its goal is to prepare staff to assist guests and travellers at the airport.
Complaint Resolution Services and Accessibility Feedback
If you have a complaint, concern or comment relating to accessibility, please complete our Contact Form. Select Accessibility Complaint & Feedback in the category field.  A member of our team will contact you to follow-up during regular business hours.  We will reply promptly and will always work to enhance our accessibility at the airport.
Curbside Assistance
Victoria Airport Authority's Curbside Assistance Program supports travellers who require extra assistance to and from their flights.
Curbside assistance is provided by our Passenger Engagement and Safety Officers (PESO) who help persons with disabilities or reduced mobility move through the terminal.
At YYJ, the program is available to departing passengers from curbside to the airline check-in service counters.  For arriving passengers, from the baggage claim area to the exterior curbside and parking areas.
PESO's provide help with baggage and wheelchairs, and guiding assistance for people who are blind or have low vision.  YYJ's designated curbside assistance drop-off and pick-up area is equipped with accessible seating, signage and an intercom system.  Wheelchairs are available upon request.
The Curbside Assistance Program complies with the Accessible Transportation for Persons with Disabilities Regulations and is available 24/7 through the Airport Services Centre (250-953-7511), by making a reservation or by pressing the intercom button upon arrival at the Curbside Assistance area located at the departures end of the curb-front.
To make a curbside assistance reservation in advance, please click here for a link to our Curbside Assistance Reservation Form.
Please note that if you do require assistance for your entire travel journey, please ensure you book those services with your airline.
Arrival and Check-In
Parking lots are located in close proximity to the air terminal building and offer designated accessible parking spaces for people with special needs. These spaces are closest to the terminal building and crosswalks. View our printable Parking Guide – PDF.
Designated curbside areas are available to drop off passengers with reduced mobility.
Air terminal building entrances are equipped with automated sliding doors.
The departures check-in area is equipped with designated priority self-service check-in kiosks for a person with a disability.  These kiosks offer the following features:
navigational keypad featuring braille labelling and tactile keys that operable with one hand
a headphone jack with volume control for audible instructions
anti-glare touch monitors
wheelchair accessible height
Lowered check-in ticket counter ledges have been incorporated into the counters for wheelchair accessibility.
Hearing Loops
Our lower passenger departure lounge gate areas are equipped with hearing loops. These are designed to wirelessly send sound directly to a person's hearing aids while eliminating background noise.
Wayfinding
The air terminal building is equipped with large signage with contrasting colours.
Braille signage is located at washroom entrances and in the elevator.
Animal Relief Areas
There are two areas designated as relieving areas for service animals on the grass berm located directly across from the air terminal building. These areas are equipped with waste bags and receptacles.
The animal relief areas are identified on our Air Terminal Building Map.
There is a designated animal relief washroom located post-security in the lower passenger departures lounge.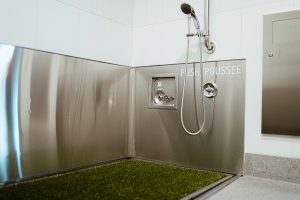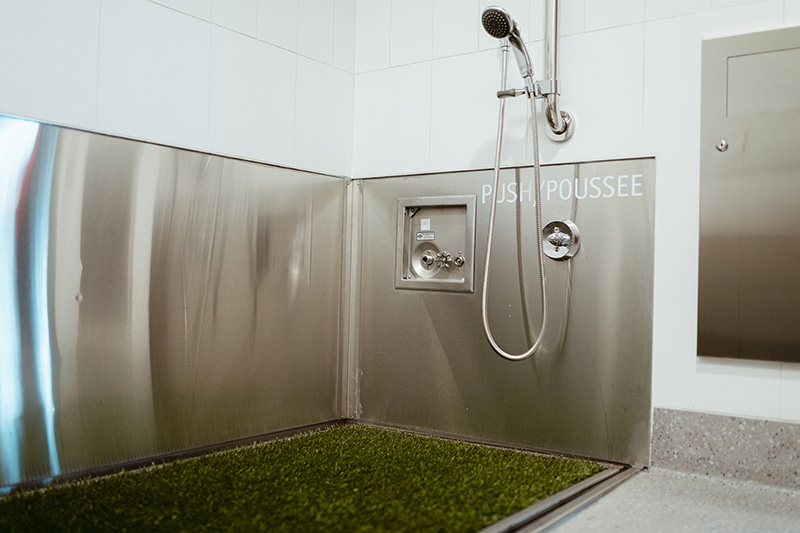 Washrooms
Washrooms are equipped with accessible features such as wheelchair accessible stalls equipped with toilet seat back support, support bars and emergency call button/alarms, automated soap and paper towel dispensers and waste receptacles at appropriate heights for wheelchair accessibility and braille signage.
Washrooms are located in all passenger service areas of the air terminal building.
An accessible washroom located in the lower passenger departure lounge is equipped with a Changing Places adult change table and hoist, toilet with raised pan and back support, accessible sink and grab rails.
Please note: Passengers need to bring their own slings and should consult the weight restrictions of their sling.
Accessible Local Ground Transportation
Other Accessibility Features
An elevator provides access to the second floor Administrative Offices and the third floor Eagles Landing Observation Lounge.
All ATM's are equipped with tactile markers.
The air terminal building is equipped with baggage belt start-up alarms and flashing lights.